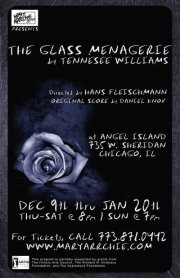 RESERVE TIX: http://bit.ly/maryarrchie

Directed by Hans Fleischmann
with an original score by Daniel Knox
December 9th 2012 thru January 20th, 2013
Thurs-Sat at 8pm / Sun at 7pm

Featuring Hans Fleischmann, Maggie Cain, Joanne Dubach, & Walter Briggs

Production Team: Rudy Galvan (asst. direction/dramaturg), Andrew Donnelly (stage mgmt), Matthew Gawryk (lights), Anna Henson (projections), Daniel Knox (composer), Grant Sabin (set), Stefin Steberl (costumes), Joe Court (sound design), Ariana Soloway (props), Gaby Labotka (rehearsal assistant), Mark Hackman (choreography)

Mary-Arrchie Theatre Co. presents a gritty re-imagining of Tennessee Williams' haunting, semi-autobiographical masterpiece The Glass Menagerie. The original memory play was the legendary playwright's first major success and is considered one of the great American plays of all time. Mary-Arrchie's version tells the story through the memories of a homeless man living on the streets of St. Louis, post-WWII. In his imagination, he relives the events that led to his ultimate demise. LA-based Jeff Award winning ensemble member Hans Fleischmann returns to Mary-Arrchie to direct this production, featuring an original score by Chicago musician Daniel Knox. Daniel has performed with David Lynch, Jarvis Cocker, and at Robert Wilson's Watermill Center with Rufus Wainwright.
Mary-Arrchie Theatre Co.
735 W. Sheridan Rd., Chicago
Thursday Dec 20, 2012
7pm-7pm